Aug 19, 2010
Mendeleev: Hot or not?
In our show, Yellow Fluff & Other Curious Encounters, Robert describes the great Russian chemist, Dmitri Mendeleev, as unlikely to win any beauty pageants. This listener wrote in to disagree and has the photo to prove it:

Jad & Robert,
I was aghast to hear the unflattering physical description of this impressive genius! I find him quite striking. Here's an image I took of his memorial in Moscow, which I stumbled upon quite by accident.

A magnificent visage!
Paul Oscar Hamilton
www.pauloscarhamilton.com
Robert responds:

Let me place alongside your heroic sculpture of the Father of Chemistry this photograph of the real Dmitri: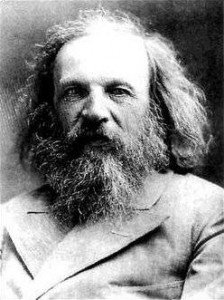 I think we can agree that the Real Dmitri isn't going to be showing up soon on America's Next Top Model. The sculptural Dmitri might turn a few heads beauty-wise, but the real guy needs a haircut. Badly.